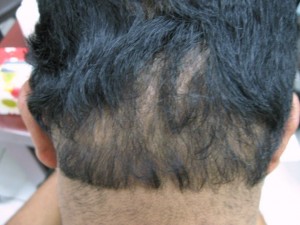 A 32 year old patient with Ophiasis pattern of Alopecia Areata. Received several sittings of Intralesional triamcinolone and Oral Mini pulse steroid. He was referred to me by Dr Salim from Kerala. I have started him on PUVA.
[
Ophiasis on DermKnowledgeBASE
]
Techie Dermatologist, Information Systems Ph.D. candidate, Supporter of Open-Source Software, Machine Learning and AI geek,loves cricket, Canadian wine and beer, skeptical about the worth of Cosmetic Dermatology.
[Resume]
Latest posts by Bell Eapen (see all)