This patient complained to me that she gets rashes when she comes walking to the clinic in the morning. Today she showed me the lesions, numerous small (1-4 mm in diameter) pruritic wheals with surrounding flares. Lesions used to subside in 30 minutes. A diagnosis of cholinergic urticaria was made.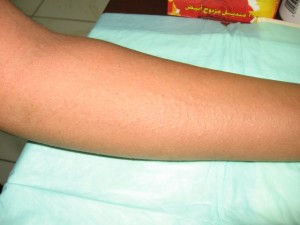 AI, machine learning & digital health consultant
at
SkinHelpDesk
Techie Dermatologist, Information Systems PhD, Supporter of Open-Source Software, Machine Learning and AI geek,loves cricket, Canadian wine and beer.
[Resume]
Latest posts by Bell Eapen (see all)