Acrodermatitis continua can be resistant to treatment. It may be treated topically with glucocorticoids,
calcipotriol
, 5-fluorouracil or
tacrolimus
. Systemic treatments include oral retinoids, cyclosporine, methotrexate, and PUVA photochemotherapy. There are reports of improvement with NSAIDs. A combination of tacrolimus in the morning and calcipotriol at night is probably the best approach often showing very good improvement in 3 weeks. A previous patient of mine reported very good improvement with
alternative medicine
!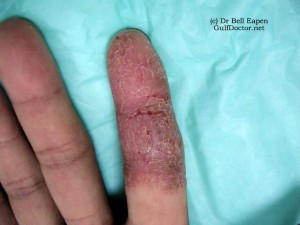 Latest posts by Bell Eapen
(see all)