Idiopathic guttate hypomelanosis is traditionally a disease of the fairer skin. It is one of the few photoinduced hypopigmented lesions. Today I say one patient with multiple IGH. Some dermatologists use topical psoralen preparations though theoretically it can worsen IGH. The treatments of choice include topical steroids, tretinoin and sunscreens.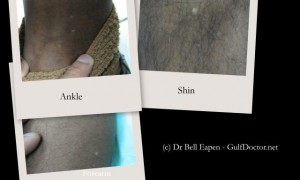 [
Dermatology Triples on IGH from DermKnowledgeBASE
]
AI, machine learning & digital health consultant
at
SkinHelpDesk
Techie Dermatologist, Information Systems PhD, Supporter of Open-Source Software, Machine Learning and AI geek,loves cricket, Canadian wine and beer.
[Resume]
Latest posts by Bell Eapen (see all)