Chronic folliculitis of legs, though not uncommon in India, is not frequently seen in the same expatriate population in Gulf. This is a case I saw few days back. However he complained that lesions appeared only when he is in gulf and disappeared completely while in India!
PUVA and Co-Trimoxazole have found to be useful in reducing recurrence.
Co-Trimoxazole retains high sensitivity in this region probably because of decreased us
e.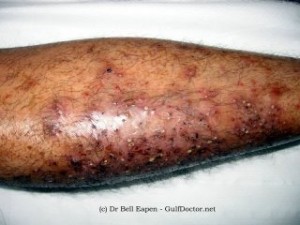 The combination of pentoxifylline with ciprofloxacin was found to be superior in initial response as well as prevention of recurrence. (Ref: 20944248 [PubMed] )
AI, machine learning & digital health consultant
at
SkinHelpDesk
Techie Dermatologist, Information Systems PhD, Supporter of Open-Source Software, Machine Learning and AI geek,loves cricket, Canadian wine and beer.
[Resume]
Latest posts by Bell Eapen (see all)