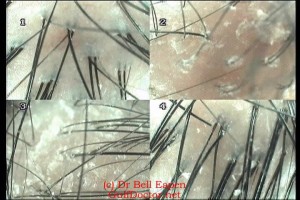 This patient with an extensive frontal recession of pattern alopecia complained of recent onset hair loss from the vertex. On examination, the patient had scalp psoriasis. The hair scope examination showed characteristic follicular thinning of pattern alopecia but pictures 2 and 3 also showed characteristic scalp changes. This underlines the need to carefully look for scalp disorders even in extensive pattern-alopecia.
AI, machine learning & digital health consultant
at
SkinHelpDesk
Techie Dermatologist, Information Systems PhD, Supporter of Open-Source Software, Machine Learning and AI geek,loves cricket, Canadian wine and beer.
[Resume]
Latest posts by Bell Eapen (see all)