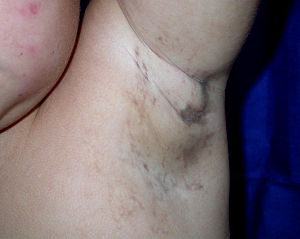 The article below describes the use of topical niacinamide and topical desonide in axillary hyperpigmentation from the Dovepress journal: Clinical, Cosmetic and Investigational Dermatology. Axillary hyperpigmentation is considered a cosmetic condition in this part of the world, except in conditions like acanthosis nigricans or axillary freckling. I generally view studies on cosmetic condition with skepticism even when it involves non-cosmetic interventions. But there are few factors that sets this study apart from the rest of the genre.
Ref: http://dx.doi.org/10.2147/CCID.S39246 (link to access full text)

Castanedo-Cazares, Juan Pablo; Lárraga-Piñones, Gabryela et.al. Topical niacinamide 4% and desonide 0.05% for treatment of axillary hyperpigmentation: a randomized, double-blind, placebo-controlled study. Clinical, cosmetic and investigational dermatology, Vol. 6, (2013)
Region of the left axilla. Note the presence of characteristic brown-grayish maculae following the Lines of Blaschko. (Photo credit: Wikipedia)
This controlled trial is registered on the US National Institutes of Health Clinical Trial Register. Two departments (Dermatology and Pathology) are involved in the study. The study is of high quality and probably the first to evaluate post inflammatory hyperpigmentation (PIH) at the histological level as they have included histological changes as secondary outcome.
The authors have demonstrated basement membrane disruption in PIH that improves with anti-inflammatory interventions like desonide and niacinamide. They have also found that PIH is associated with increase in melanin but WITHOUT any increase in melanocytes. Both these findings have clinical relevance.
Somehow 'incontinentia pigmenti' was used as a synonym for pigmentary  incontinence. Incontinentia Pigmenti is an inherited developmental defect of the skin and cannot be used as a synonym for the histological finding of pigmentary incontinence characterised by release of melanin pigment in the dermis.
Niacinamide and desonide have different mechanism of action and are compatible. Can both be combined as a treatment for axillary hyperpigmentation? I shall try to add the protocol to the Dermatology Post graduate thesis topics wiki. Please add your ideas to the wiki too. If colorimetry is beyond the scope of PG thesis, feel free to use my online colorimetry from digital photographs!


My Rating: 4 peels
What is peel score?

[sociallocker id="771″] [/sociallocker]
Latest posts by Bell Eapen
(see all)