Ref:
The efficacy in melasma treatment using a 1410 nm fractional photothermolysis laser Wanitphakdeedecha 2013 Journal of the European Academy of Dermatology and Venereology Wiley Online Library
(abstract)
The above article promotes 1410 nm fractional laser as a temporary effective procedure in the treatment of melasma. The key word is 'temporary'. Like most clinical trials for melasma interventions, the followup period is (?intentionally) kept low. In this case the authors have accepted this limitation in the conclusion.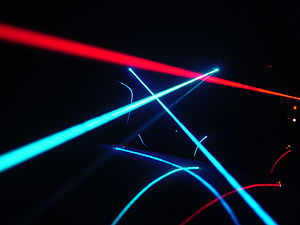 Fun with an Argon-ion and a He-Ne laser. Most of these photos are from around 2000-2001. (Photo credit: Wikipedia)
What interested me more in this study is the incidental finding. Fractional laser at low coverage (5%) is better than more coverage. This is probably because of the reduced risk of post inflammatory pigmentation a common problem with darker skin types and more intense laser platforms like the Q-switched ones.
I was wondering whether a fractional q-switched technology would be better for the treatment of melasma. I did a google search and found such a system actually exists. The manufacturer says their Q-switched fractional technology is unique in the world. (They all do, but the claim may be true in this case). In line with my blogging convention, I cannot reveal the name of the platform, but the readers can easily find it by googling "fractional q switched laser".
I am just curious to know whether anyone has practical experience with this platform. Please do comment if you have, referring to the platform by the acronym 'fqsl'.
On a lighter note, acronyms can be tricky sometimes. I have a medical/dental PG entrance site called docpg.co.in which has a category called Frequently Unanswered Questions. No, I do not use any acronym for that 🙂


My Rating: 3 peels
What is peel score?

Latest posts by Bell Eapen
(see all)