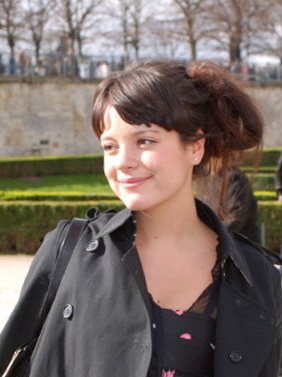 Hope you enjoyed the peptide story so far. Now we will explore the charming Acetyl hexapeptide-3 (Argireline), the botulinum toxin in a bottle. Acetyl hexapeptide-3 has the sequence Ac-Glu-Glu-Met-Gln-Arg-Arg-NH2 patterned from the N-terminal end of the protein SNAP-25. Before going into the details, let me ask my readers few questions about cosmeceuticals?
Lily Allen. A cropped version of Image:Lily 1.jpg (Photo credit: Wikipedia)
How new is new?
How recent is recent?
How similar is similar?
Acetyl hexapeptide-3 is still considered a 'new' technological innovation in cosmetic industry. Wikipedia still gives the benefit of doubt to Acetyl hexapeptide-3 for not having long-term safety related data because 'it has been developed relatively recently'. ( http://en.wikipedia.org/wiki/Acetyl_hexapeptide-3 ). But the earliest pubmed published article [1] on Acetyl hexapeptide-3 dates back to 2002 ( http://www.ncbi.nlm.nih.gov/pubmed/18498523 ) and the actual discovery of the peptide to 1983. Acetyl hexapeptide-3 is not an infant as we think, but an adolescent.
Though it is not fair to criticise the initial perception about a technology, I can't help but quote few lines from this initial article:
"Botulinum neurotoxins (BoNTs) represent a revolution in cosmetic science because of their remarkable and long-lasting antiwrinkle activity. (fair enough) However, their high neurotoxicity seriously limits their use. " (really!)
"BoNT A is the most potent toxin known to humankind and therefore BOTO@" treatment has to be under strict medical control"
May God save those admitted with severe neurotoxicity after BOTO@ and medical fraternity, please have a strict control over the BOTO@ party next door.
Please take a note of the word 'potent' above. See another statement the authors have made in the abstract of the same article:
"Analysis of the mechanism of action showed that Acetyl hexapeptide-3 significantly inhibited neurotransmitter release with a potency similar to that of BoNT A, although as expected, it displayed much lower efficacy than the neurotoxin."
Was clinical research so advanced a decade back so that potency and efficacy could be assessed by analysis of the mechanism of action?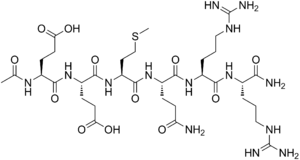 English: Chemical structure of Argireline (Acetyl hexapeptide-3) (Photo credit: Wikipedia)
If you scroll down to the "Results and Discussion" you will see a section on rational design of Acetyl hexapeptide-3 that is irrational. More about this in my informatics blog.
Will be back soon with more stories on the adolescent Acetyl hexapeptide-3 and the similarity of its potency with BoNT A.
In spite of the limitations in this decade old initial studies, Acetyl hexapeptide-3 should still be considered a conceptual innovation even now.
Read the full series here.
Reference:
1. Blanes‐Mira, C et al. "A synthetic hexapeptide (Argireline) with antiwrinkle activity." International journal of cosmetic science 24.5 (2002): 303-310.
Disclaimer: Argireline is a registered trademark. All information presented here is given in good faith but without warranty or guarantee of any kind whatsoever, whether implied or expressed. 
Read the full series here.
[sociallocker id="771″] [/sociallocker]
Latest posts by Bell Eapen
(see all)