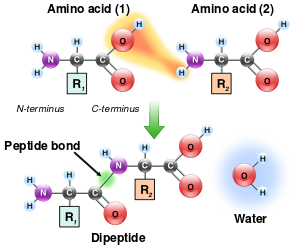 Peptide bond formation. (Photo credit: Wikipedia)
KTTKS was the son of alpha-pro-collagen I, the most influential dermal fibrous protein. He was in the bad company of water because of his polar nature. Mr Pro-collagen I called KTTKS one day and told him a little secret. The secret to increase his power 5 times. In a hidden vault in their house KTTKS found it, a lethal weapon called the palmitoyl, a fatty acid derivative. It increased his penetration 5 times. Palmitoyl-KTTKS became the king of all cosmetics and adopted the name Matrixyl.
Matrixyl, the king of all cosmetics was relatively stable in his base formulation, penetrated reasonably well. In spite of his weakness inside the cell, he was a good king. But, one fine day Matrixyl fell in love with the beautiful Hyaluronic acid, a polysaccharide. Matrixyl being a peptide could influence most other proteins since they all had the same amino acid core. But HA was beyond his reach since she had no amino acid in her. Besides she was in love with the ubiquitous villain UVB.
What followed was the epic war that lasted for 1000 years. Matrixyl was brutally murdered in the war. But all was not over. Matrixyl's brother, Matrixyl 3000 and his son Tetrapeptide-21 vowed to avenge the death of Matrixyl.
To be continued…. But during the break, why not read the stories below:
http://www.ncbi.nlm.nih.gov/pubmed/21454612 [Collagen fragments inhibit hyaluronan synthesis in skin fibroblasts in response to ultraviolet B (UVB): new insights into mechanisms of matrix remodeling.]
http://www.ncbi.nlm.nih.gov/pubmed/11085364 [This article describes a method for measuring the true flux of peptides across skin in vitro and a kinetic model which simply describes the skin penetration of peptides.]
Want to know more about the Matrixyl clan? Read this. Read the full series here.

Disclaimer: Matrixyl is a registered trademark. All information presented here is given in good faith but without warranty or guarantee of any kind whatsoever, whether implied or expressed.
Latest posts by Bell Eapen
(see all)