Recently Dr Vijay George asked about Interferon gamma release assay in the
Dermatologists facebook group
. I just googled a bit to learn more about the investigation, as I had absolutely no idea about this. I have put down few interesting things I found:
According to CDC guidelines an interferon gamma release assay may be used in place of (but not in addition to) a tuberculin skin test in all situations in which CDC recommends tuberculin skin test.
Interferon gamma release assays which measure the Th1-mediated immune response may pose a challenge even in clinical scenarios, such as pregnancy, in which Th1 immunity is altered. In cutaneous TB, this could be a problem as some of the cutaneous TB types show less immune response. So the sensitivity is unlikely to be more than Mantoux in Cutaneous TB. (My opinion)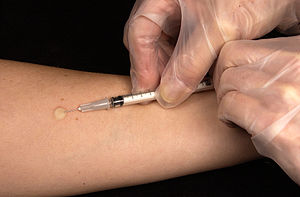 The Mantoux skin test consists of an intradermal injection of exactly one tenth of a milliliter (mL) of PPD tuberculin. (Photo credit: Wikipedia)
It does not cross react with BCG, Mycobacterium bovis, or Mycobacterium avium. But it cannot distinguish MTB from Mycobacterium marinum, Mycobacterium kansasii, and Mycobacterium szulgai. So it is more specific than the skin test.
I think, It will be helpful only to confirm MTB in a Mantoux Positive case with clinical suspicion. But only 1 visit is needed and the inter-observer interpretation variability is less.
I found out from the lab that it costs about US$ 230/-.
BTW, one of the first articles I read was about the use of IGRA in pregnancy. Their conclusion started like this:
Comparing the tuberculin skin test and interferon gamma release assay results in pregnancy.
That would be a very risky comparison indeed! 🙂
Latest posts by Bell Eapen
(see all)