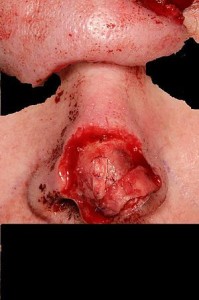 After elevation of the flap,the healed excess soft tissue and cartilage has been sculpted. (Photo credit: Wikipedia)
Thread implant is a semi-invasive 'face-lifting' procedure that has extricated from plastic surgeons grasp into the dermatologists office in the form of an office facelift. I recently saw two designs. One made of Polydioxanone is incorporated into a needle and the placing is as simple as giving a subcutaneous injection! The second made of Poly Lactic Acid (PLA) had bidirectional cones separated by knots for stability. The resorption starts after 2 to 6 weeks in both cases. I believe threads should have enough mechanical stability for lifting and durability for stimulation of collagen production. So in my opinion the first one can lift only the mind (but sometimes body may follow!). The second one may reposition the soft tissue in a superficial plane without addressing excess skin. I have also noticed a growing craze for gold not just in threads, but in various products as well. We shall explore the properties of gold soon.
Do you think gold has a role in cosmetic dermatology?
Latest posts by Bell Eapen
(see all)