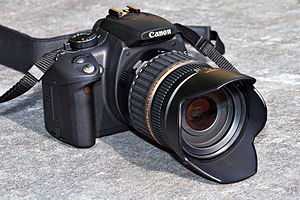 I recently read a 2 decade old editorial on digital imaging in dermatology. The editorial started off with a question:
"Why do dermatologists need any imaging techniques for skin, an entirely visible organ?" 
Every time I open my Facebook, I see clinical dermatology images posted for opinion, with a good number of comments and likes. Though crowdsourcing dermatological diagnosis in this manner is a grave violation of privacy to me, digital imaging has become an integral part of dermatology practice.
For some dermatologists (like me), the digital photographs are the only contact with the world of lesions. With the growing popularity of teledermatology and (ethical and non-ethical) crowdsourcing, your exposure to digital photographs as a window to your patient is going to increase. This post is actually a prelude to (an attempt at) defining that future of digital dermatology.
The future has many challenges: Standardization, Sensitivity, Privacy and Ethics are just few of them. In this series, I will discuss these challenges from a technical perspective. I dream of a future when 'diagnosing from digital photograph' will be an important part of dermatology training curriculum.
So I have defined the beginning of this journey. I have an endpoint in mind too: A dermatology specific IOD recommendation for WG-19 DICOM. Don't worry if you don't understand the endpoint now. Suffice to say that we will partly follow the specialty with a well defined imaging standard; Radiology, and modify their tools for our domain. At this juncture, the path to that endpoint is less clear to me too! Technical parts of this series will be on my informatics blog.
Here is the link to the wiki page, where I shall collect all the resources, and this is where we shall reach our destiny with your comments and contributions! I have given the name DICODerm (Digital Imaging and COmmunications in Dermatology) for this project. So if you tweet or discuss in #DsB (Dermatologists Sans Borders), please use the hashtag #DICODerm and feel free to follow me @beapen
Here is a useful preliminary solution to your image organization problems! Dermatology Image Tagger.
Disclaimer: I am not a member of NEMA, Medical Imaging and Technology Alliance or WG-19. The opinions mentioned here and internally hyperlinked pages are my own. External sites are hyperlinked in good faith, but does not mean endorsement.
Latest posts by Bell Eapen
(see all)