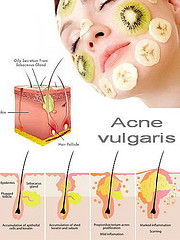 Post Inflammatory Hyperpigmentation (PIH)
after successful acne treatment used to get ignored as a first world cosmetic concern till recently. But with the burgeoning cosmetic dermatology industry, acne treatment remains incomplete till PIH is taken care of. Though many effective and not so effective treatments arrive every now and then on the scene, with enticing theories about slaying melanocytes, there is no validated scale for
quantitative research
on PIH.
Researchers from
University of Texas Southwestern Medical Center
have validated a post-acne hyperpigmentation index (PAHPI)
(1)
, (much to the chagrin of fairness cream tycoons). The paper (soon to appear in JAAD) is an excellent example of effectively combining qualitative and quantitative methods. The index was developed after focus group interviews and was rigorously tested for inter and intra rater reliability. The validity was tested for 3 independent outcome measures:  global severity ratings, pigmentation, and quality of life.
The simple index that takes into account size, intensity, and number of lesions showed substantial reliability and validity. This may be an excellent tool for
PG thesis research
on acne and PIH management.
The authors were able to recruit 21 patient from the community with fliers and radio advertisement. Wonder how many PIH patients visit a dermatologist daily in the Indian subcontinent!
Reference:

What is peel score?
Reliability assessment and validation of the postacne hyperpigmentation index (PAHPI)
Reviewed by Bell Eapen on .
Reliability assessment and validation of the postacne hyperpigmentation index (PAHPI), a new instrument to measure postinflammatory hyperpigmentation from acne vulgarisPeelScore rating: 4
Latest posts by Bell Eapen
(see all)