A 13 year boy was brought to me by his mother today with this unilateral eczematous and infected lesion over the shin. I came to the following conclusion after a detailed history. He developed a minor asteatotic eczema patch which was entusiastically treated by his parents with a herbal paste which led to this. When I offered the diagnosis the mother promptly agreed though she blamed her husband for it :-). The boy said that he developed intense itching after applying the paste.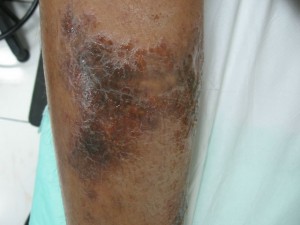 AI, machine learning & digital health consultant
at
SkinHelpDesk
Techie Dermatologist, Information Systems PhD, Supporter of Open-Source Software, Machine Learning and AI geek,loves cricket, Canadian wine and beer.
[Resume]
Latest posts by Bell Eapen (see all)