This 10 year old patient presented to me with a vitiligo patch of diamension 8cm x 4 cm. She had evidence of dental infection which was corrected first. I was reluctant to start her on Narrow Band UVB. However recent studies have demonstrated its efficacy and safety in children. I started her on a weekly once regimn with excellant results as shown here (Pre treatment photograph is not available.) However lesion still remains over the area of elastic band of the goggles!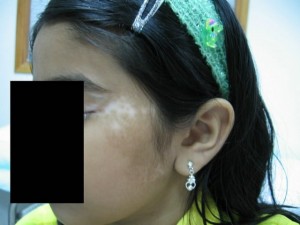 AI, machine learning & digital health consultant
at
SkinHelpDesk
Techie Dermatologist, Information Systems PhD, Supporter of Open-Source Software, Machine Learning and AI geek,loves cricket, Canadian wine and beer.
[Resume]
Latest posts by Bell Eapen (see all)