Recurrent vesiculo-pustular lesions over the fingers were suggestive of pompholyx. KOH was negative. According to the textbooks contact dermatitis has to be excluded when there is sparing of few fingers as in this case. Unfortunately patch testing is not available in our centre.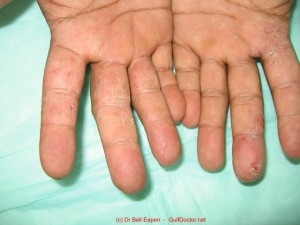 AI, machine learning & digital health consultant
at
SkinHelpDesk
Techie Dermatologist, Information Systems PhD, Supporter of Open-Source Software, Machine Learning and AI geek,loves cricket, Canadian wine and beer.
[Resume]
Latest posts by Bell Eapen (see all)