Trichotillomania consists of repetitive, uncontrollable pulling of one's body hair. In most cases it is related to an increased stress level at home or school. Treatment involves self-monitoring of hair-pulling episodes as well as the feelings and situations that are most likely to lead to hair pulling. Children are then systematically taught a new behaviour, for example, squeezing a ball or tightening their fist that they are to do whenever they feel the urge to pull.
From a dermatological standpoint, it is one of traumatic alopecia.
Newly growing short hairs with tapered ends and broken short hairs are visible in this 12 year old girl. Trichogram may be needed for diagnosis in some cases.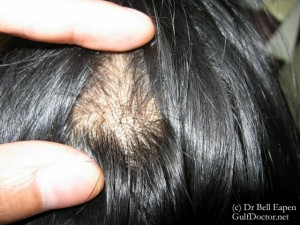 Latest posts by Bell Eapen
(see all)