A 31 year old male patient with this lesion of 4 years duration on the chest. He also developed a swelling as seen in the picture since 1 week. He did not have similar lesions any where else in the body. What is your diagnosis?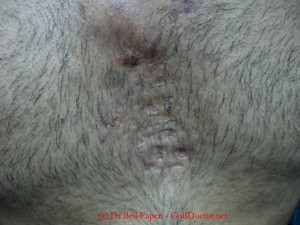 To get a list of conditions affecting chest, Use QueryBuilder from DermKnowledgeBASE.
Try ___________________ canAffect chest
AI, machine learning & digital health consultant
at
SkinHelpDesk
Techie Dermatologist, Information Systems PhD, Supporter of Open-Source Software, Machine Learning and AI geek,loves cricket, Canadian wine and beer.
[Resume]
Latest posts by Bell Eapen (see all)