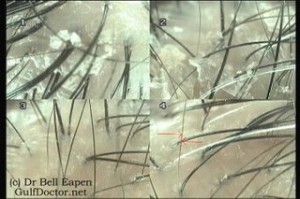 This patient presented with an alopecia areata patch over the frontal scalp. She also had a unilateral loss of lateral eyebrows. An exclamation mark hair as seen through hair scope is marked with red arrows. When intralesional corticosteroids are used, low concentrations are typically injected into eyebrows or facial skin and the highest concentration is used on the scalp.
AI, machine learning & digital health consultant
at
SkinHelpDesk
Techie Dermatologist, Information Systems PhD, Supporter of Open-Source Software, Machine Learning and AI geek,loves cricket, Canadian wine and beer.
[Resume]
Latest posts by Bell Eapen (see all)