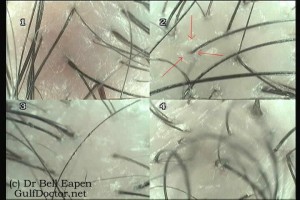 This middle-aged female patient presented to me with diffuse long-standing alopecia mainly involving the vertex. The hair scope revealed peri follicular scaling without significant thinning of the shaft. Clinically peri follicular erythema was also evident. My diagnosis was Lichen Plano Pilaris (LPP). Since histopathological evidence is not available, this can be categorized as Pseudopelade of Brocq also.
AI, machine learning & digital health consultant
at
SkinHelpDesk
Techie Dermatologist, Information Systems PhD, Supporter of Open-Source Software, Machine Learning and AI geek,loves cricket, Canadian wine and beer.
[Resume]
Latest posts by Bell Eapen (see all)