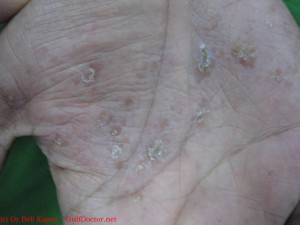 Pityriasis rosea is a skin disease characterized by sharply defined pruritic red patches covered by fine scales mostly affecting young adults. Typical lesions usually affect the trunk in a Christmas-tree pattern and it usually resolves spontaneously after 6 weeks. This patient reported with classic presentation of pityriasis rosea except for the unusual associated palmar lesions. A VDRL test was suggested but the patient refused.
AI, machine learning & digital health consultant
at
SkinHelpDesk
Techie Dermatologist, Information Systems PhD, Supporter of Open-Source Software, Machine Learning and AI geek,loves cricket, Canadian wine and beer.
[Resume]
Latest posts by Bell Eapen (see all)