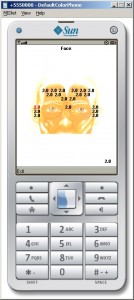 I have recently made a simple application to bring basic dermatology related calculations to hand held devices in Java. It includes modules for frequently used dermatological calculations like PASI, MASI, SCORAD and for PUVA and Botox (R) related calculations.

DermaMan is a freeware which can be downloaded from http://www.gulfdoctor.net/derm/dermaman.htm if you are accessing from a PC and http://www.gulfdoctor.net/mobile/derm.htm if you are accessing from your hand held device for over-the-air installation. All modules are packaged as a single JAR file. Specific instructions for installation depend on your device and are usually available from the manufacturer's user-guide. General instructions are available from the web pages mentioned above.

A more detailed description of the software is in print in the 'Resident's corner' section of IJDVL, March-2008 issue. Please read the disclaimer before you download the software. Use this thread for support, bug report and feature requests.
Latest posts by Bell Eapen
(see all)