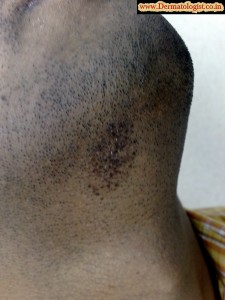 Speckled lentiginous nevus is a patch of hyperpigmentation representing a localized defect in neural crest melanoblasts. Several black or brown macules are seen within a patch of brown hyperpigmentation. Some consider this a variant of Congenital melanocytic naevus.
AI, machine learning & digital health consultant
at
SkinHelpDesk
Techie Dermatologist, Information Systems PhD, Supporter of Open-Source Software, Machine Learning and AI geek,loves cricket, Canadian wine and beer.
[Resume]
Latest posts by Bell Eapen (see all)