When Mr Andrew Queen, the President of eDerm Systems and me (sitting half way across the world) seamlessly completed an online demo of the new eDerm Electronic Health Records (EHR) for dermatology, I did not ask one obvious question as I knew the answer already. Why an EHR specifically for dermatology? Just as I mentioned in ONTODerm, dermatology is different from other medical specialities with different requirements. Localisation of the lesion and an accurate description of its appearance is of paramount importance to us dermatologists. eDerm has done a good job in simplifying both to the click of a button using the latest technology making our documentation job a lot easier. Your module would be running on your ipad, making lesional description almost unnecessary as your camera can capture it more accurately!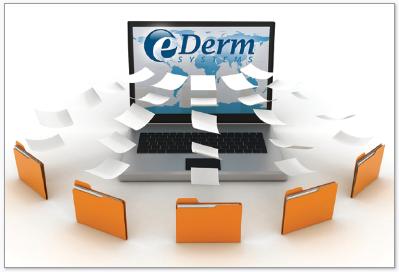 How is it different from other EHRs? Firstly it is cloud based (pardon the technology jargon). In simple terms the technology makes sharing between your front desk, your home computer, your other clinics, your insurance provider, your lab and your chemist as easy as a walk in the cloud. But a local copy of the data is also stored in your device, so that you can access data even when internet connection is not available. System updates are seamless almost like your Google chrome that updates on its own. Secondly it is self learning. As you use it more and more, it will recognise your patterns and make suggestion according to your taste. Finally it is specifically designed for dermatology by dermatologists, so you can expect the system to be intelligent!
The system however is a bit too expensive for a cloud based system. Data security is an issue for cloud based EHRs. An intuitive advanced search function combining various factors (using boolean logic) to retrieve publication ready data is also lacking. Modules for mole mapping, fetching evidence based practice guidelines and drug interaction checker would have been useful too.
Please share below to visit eDerm Systems website
I give 4 peels to eDerm.



What is peel score?

eDerm Systems
Reviewed by
Bell Eapen
on .
Web-based Electronic Health Records and Practice Management For Dermatologists.
A Web based EHR specifically designed for dermatology practice. It supports automatic coding, E-prescriptions and electronic billing.
PeelScore rating:
4
Latest posts by Bell Eapen
(see all)