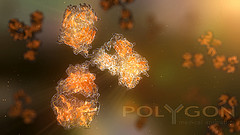 Which is the latest monoclonal antibody for psoriasis? —-mab? (Feel free to use any four letters to fill in the blanks. Don't worry if it sounds strange today, it may not tomorrow). This will be followed by a series of expensive trials to prove the superiority of @@@mab of today to that of yesterday.
Finally, there is a new technology in the horizon. The new technology actually simplifies things rather than complicate it. Ablynx, the developer observed what camels do with their antibodies and expunged unwanted parts of our conventional antibody. What remained was the single monomeric variable antibody domain. To their surprise, they found that the remaining antibody fragment  was more specific, had better affinity, low inherent toxicity, was easy to manufacture (henc
e cheaper) and could be administered through routes other than injection! Sounds like fairy tale? But it is true. Let me introduce the new hero Nanobody![1]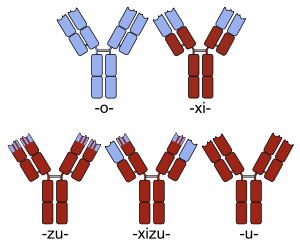 Comparison of (brown: human, blue: non-human): top row: mouse, chimeric bottom row: humanized, chimeric/humanized, human The substems according to the are shown below each antibody. (Photo credit: Wikipedia)
Most of the nanobodies are still on the drawing board. Some nanobodies may be specific enough to target fibrils in advanced stages of amyloid formation making it useful in Parkinsons.[2] A anti-Malassezia nanobody stable enough to be used in shampoos for dandruff is already being studied.[3] Very soon we might see a TV commercial of Embrel shampoo!
BTW, I have recently added a www to non-www redirect to this website. Please inform me if you notice any problems especially those using DKB webservices.
Disclaimer: Nanobody and Embrel are registered trade marks.
References:
1. "Understanding Nanobodies | Ablynx." 2010. 9 Apr. 2013 URL: http://www.ablynx.com/en/research-development/nanobody-technology/understanding-nanobodies/
2. Vuchelen, Anneleen et al. "1H, 13C and 15N assignments of a camelid nanobody directed against human α-synuclein." Biomolecular NMR assignments 3.2 (2009): 231-233.
3. Dolk, Edward et al. "Isolation of llama antibody fragments for prevention of dandruff by phage display in shampoo." Applied and environmental microbiology 71.1 (2005): 442-450.
Latest posts by Bell Eapen
(see all)