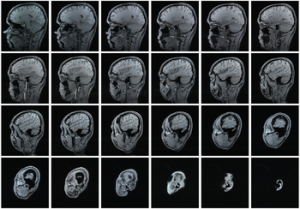 Magnetic resonance imaging (MRI) series of a human head (Photo credit: Wikipedia)
Dermatology Image Tagger Version 2.0 is released. (Download here) This version introduces encryption for all tags except date. It reduces the speed of search, but will be more secure. Why am I so paranoid about patient privacy when you see patient photographs being posted all the time in some facebook groups? Here is the reason.(Dermatology Clinic Hit With $150,000 HIPAA Penalty)
In the DICODerm initiative we are trying to adapt the radiology image management tools to dermatology. Recently I came across two articles, that could introduce another dimension to this patronage. One dealt with the Sonography of Acne Vulgaris.(1) The authors conclude "facial acne vulgaris often involves deeper tissues, beyond the reach of the spatially restricted clinical examination". However it is important to demonstrate at most the clinical utility of it in the management of acne vulgaris. I feel there is a risk of channeling medically essential services to less critical situation especially in resource deprived areas.
Another article introduces a dynamic new concept of "Microscopic MRI of skin".(2) Though it is still early times, this could well develop as a "non-invasive" skin biopsy technique, with potential for a huge clinical impact. Hope Dr Laistler and his team can convert their HTS coil into a useful tool in a dermatologist's armamentarium.
References:
(1) Wortsman, Ximena et al. "Sonography of Acne Vulgaris." Journal of Ultrasound in Medicine 33.1 (2014): 93-102.
(2) Laistler, Elmar et al. "In vivo MR imaging of the human skin at subnanoliter resolution using a superconducting surface coil at 1.5 tesla." Journal of Magnetic Resonance Imaging (2013).
Latest posts by Bell Eapen
(see all)