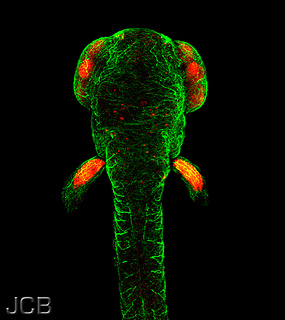 Vol. 201, Issue 5: etoc 1 (Photo credit: TheJCB)
This study proposes hypoxia inducible factor (HIF1) as the missing link between the androgenic and inflammatory theories of acne pathogenesis. Androgenic hormones  induce intraductal keratinocyte proliferation resulting in ductal hypoxia. Hypoxia induces the failure of both terminal differentiation and desquamation thus inducing the non inflammatory form of acne. Later it stimulates the production of HIF-1, and the HIF-1 stimulates inflammatory cytokines (thus inducing the inflammatory form of acne). P.Acnes is seen more as an effect than the cause of acne since the facultative anaerobe thrives in this hypoxic environment, thereby acting as a serendipitous marker of acne.
Interesting and plausible theory, but with doubtful clinical utility.
Do you have an acne problem? Consult SkinHelpDesk.com
Ductal hypoxia in acne: Is it the missing link between comedogenesis and inflammation?
Reviewed by Bell Eapen on .
This study proposes hypoxia inducible factor (HIF1) as the missing link between the androgenic and inflammatory theories of acne pathogenesis.
Ductal hypoxia in acne: Is it the missing link between comedogenesis and inflammation? Danby, Frederick William (2014). Journal of the American Academy of Dermatology vol. 70 (5) p. 948-949
PeelScore rating: 3
Latest posts by Bell Eapen
(see all)