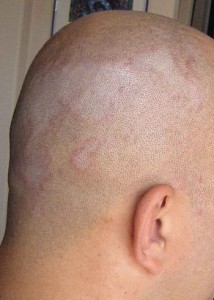 Picture of Seborrhoeic Dermatitis. (Photo credit: Wikipedia)
I have received quite a few enquiries about seborrhiasis recently. Seborrhoeic dermatitis and psoriasis are two common scaly diseases that can affect the scalp. Psoriasis generally produces Silvery white, well demarcated, dry scales with minimal itching and may extend to the forehead.
Techie Dermatologist, Information Systems Ph.D. candidate at McMaster U, Supporter of Open-Source Software, Machine Learning and AI geek,loves cricket, Canadian wine and beer.
[Resume]
Latest posts by Bell Eapen (see all)