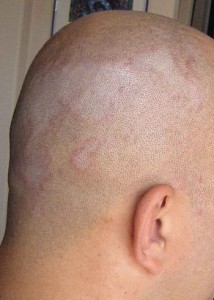 Picture of Seborrhoeic Dermatitis. (Photo credit: Wikipedia)
I have received quite a few enquiries about seborrhiasis recently. Seborrhoeic dermatitis and psoriasis are two common scaly diseases that can affect the scalp. Psoriasis generally produces Silvery white, well-demarcated, dry scales with minimal itching and may extend to the forehead.
AI, machine learning & digital health consultant
at
SkinHelpDesk
Techie Dermatologist, Information Systems PhD, Supporter of Open-Source Software, Machine Learning and AI geek,loves cricket, Canadian wine and beer.
[Resume]
Latest posts by Bell Eapen (see all)