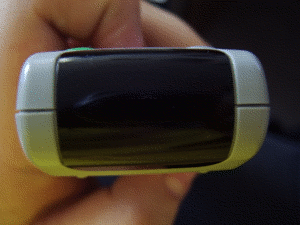 A remote control's infrared seen as near-infrared through a still image from the camera's CCD sensor. (Photo credit: Wikipedia)
When researcher Dr Richard Curry from the University of Surrey's Advanced Technology Institute, published his new light sensor in Nature's Scientific Reports, there was no mention of its potential use in dermatology. Researchers believe that having a single low cost near infrared system, in addition to conventional imaging, opens up many new possibilities. [1]
"The new technology could allow surgeons to 'see' inside tissue to find tumours prior to surgery as well as equip consumer products, such as cameras and mobile phones, with night imaging options."
The most exciting thing is that the sensors are highly flexible and can be produced cheaply, using the same laser-printers found in homes and offices, and unlike other sensors, do not require specialized manufacturing conditions. I have been working on the colour information captured in clinical photos for charm. I blogged about the decision tree developed by  Seoul National University College of Medicine and Seoul National University Bundang Hospital based on colour data. With this new low-cost sensor capable of differentiating a wide range of wavelengths extending from UV to near infrared, I am sure dermatology imaging is at the threshold of exciting new discoveries.
Dermatology residents having a tough time managing trophic ulcer of Hansens patients, You have a great new sensor coming up! Very soon you will be able to receive an alert on your mobile when the bandage is loose. You will also have another gadget in your coat pocket to measure the bacterial load and PH. Technology and engineering researchers at the University of South Australia have created a range of sensors that can detect changes in a wound environment. You don't have to rely on their eyes, noses and intuition to predict whether anything is wrong. [2]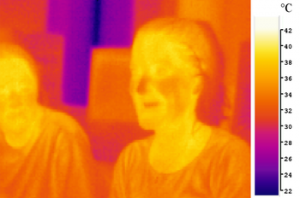 An image of two people in mid-infrared ("thermal") light (false-color) (Photo credit: Wikipedia)
What do you think about the impact of these technologies?
References:
Latest posts by Bell Eapen
(see all)