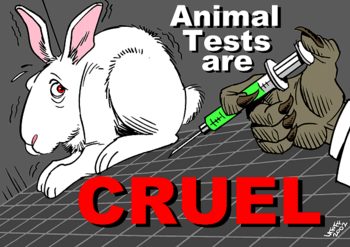 How do you test if a cosmetic (or any material for that matter) is potentially allergic? Apply it in high concentration on a mouse model or inoculate it into the conjunctival sac of a rabbit?
Animal,Porkey Pig, Lobund-Wistar (Photo credit: Wikipedia)
Thanks to the efforts of NGOs such as 'Aashray' (under the able guidance of Dr +Geraldine Jain ) animal testing of cosmetics in this fashion is banned in several countries including India.
In 2009, Dos santos et.al proposed an innovative computational algorithm to predict the sensitization potential from the chemical structure. But we now know that the allergy is not always caused by the allergen per-se. In most cases the allergen binds with a small molecule in the body called hapten. Hence this structure based prediction was never sensitive enough.
Then came the high-throughput peptide binding assay. This technique essentially measured the binding capacity of allergens to haptens. But there is a catch here too. sensitizer bound to a hapten is not enough to cause allergy. An activation of the pre-hapten has to happen prior to this process for effective sensitization.
A rabbit after a Draize Test (Photo credit: Wikipedia)
To cut a long story short, this article (1) still in press, proposes a new method that could potentially circumvent all these problems. The method has in fact proved many of the long cherished cytokine heroes inconsequential! The article is published in a journal called 'Toxicology in vitro" and could be technically beyond many of the readers of this blog. So I have tried to summarize it in simple terms below:
The authors have developed a new full-thickness skin model. For technically inclined, the new model is RealSkin cultured together with MUTZ-3. The model simulates the pre-hapten activation process. They studied the cytokine response of untreated model, a vehicle, salicylic acid as an irritant, a low potency allergen – isoeugenol and a high potency allergen – PPD. They found that the well know CD associated cytokines such as IL8  were not different in the above groups.
They studied a list of all 27 cytokines using 2 machine learning techniques. (If you really want to know – it is hierarchical clustering  and support vector machines – SVM). SVM identified the best set of cytokines that could efficiently separate the above groups. The list includes IL-12, IL-9, VEGF, IFN-Gamma, IL-4, PDGF, IL-8, IL-7, GM-CSF, IL-6 and IL-7.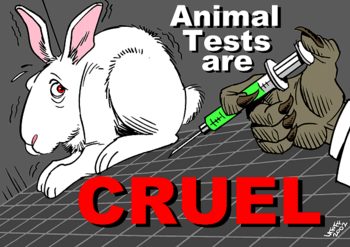 Animal tests are CRUEL (Photo credit: Wikipedia)
Few questions still remain. Will the cytokine secretome pattern remain consistent for other allergens as well especially for allergens such as DNCB? Authors acknowledge that further studies with more allergens are required to prove the concept. That's fair enough.  By the way another study has provided insight into DNCB induced allergic contact dermatitis, with wide reaching clinical implications. (http://gulfdoctor.net/s/be) Shall review that separately later.
So what does this mean to us and the poor animals? We could accurately predict what would happen on mouse skin or rabbit conjunctiva by using just a specialized cell culture and an ELISA kit! Please read the article (1) to learn how. I give 4 peels, since the study is still incomplete. It deserved full five, considering the impact on animal welfare. Do give your rating below!
Reference:
[sociallocker id = "771"]
1.
Serom Lee, David Xu Dong, Rohit Jindal, Tim Maguire, Bhaskar Mitra, Rene Schloss, Martin Yarmush, Predicting full thickness skin sensitization using a support vector machine, Toxicology in Vitro, Available online 12 July 2014, ISSN 0887-2333, . (
http://dx.doi.org/10.1016/j.tiv.2014.07.002
) Keywords: Mutz-3; Skin equivalent; Co-culture; In vitro; Skin sensitization;
Support vector machine
[/sociallocker]
Predicting full thickness skin sensitization using a support vector machine
Reviewed by Bell Eapen on .
The authors studied a list of all 27 cytokines using 2 machine learning techniques: hierarchical clustering and support vector machines – SVM
Serom Lee, David Xu Dong, Rohit Jindal, Tim Maguire, Bhaskar Mitra, Rene Schloss, Martin Yarmush, Predicting full thickness skin sensitization using a support vector machine, Toxicology in Vitro, Available online 12 July 2014, ISSN 0887-2333, . (http://gulfdoctor.net/s/bf ) Keywords: Mutz-3; Skin equivalent; Co-culture; In vitro; Skin sensitization; Support vector machine
PeelScore rating: 4
Latest posts by Bell Eapen
(see all)