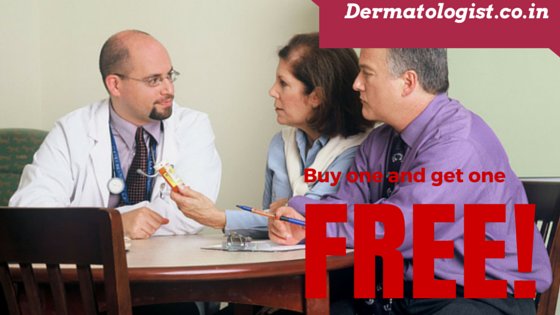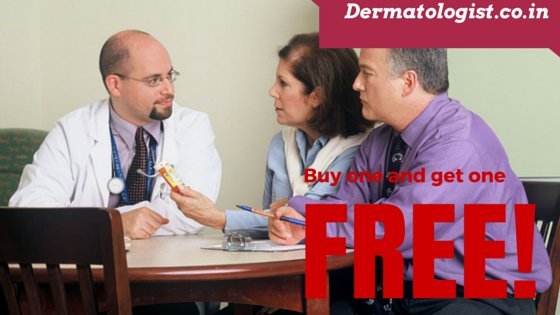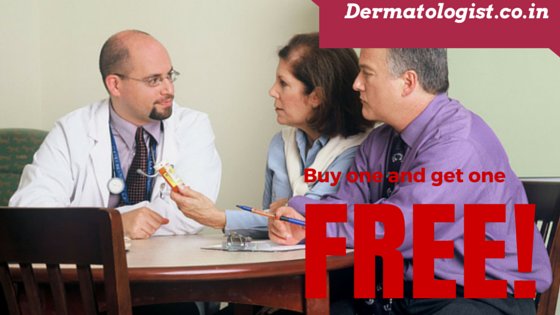 How do you deal with 1 (+1 free) consultation. Patients who come with spouse/parent/child/friend who also seeks consultation in the guise of "just an advice", then refuse to pay consultation. In fact make you feel bad for even expecting a consultation! Then there are patients who bring pictures of out of town relatives asking for a prescription but not wanting to pay! There are neighbors who land up at home for non-emergency skin ailments even though my hospital is a mere 2 km away from where I live. I even had a patient who refused to pay saying that they have already spent a lot of money with other consultants without results! Sheesh! I'm put off by such cheap behavior from so called educated and sophisticated people, and being "polite yet firm" doesn't seem to work… I work in a corporate hospital where consultation fee ranges from 600-750 rs. I live in a branded luxury apartment. And I work in an area that has a Govt medical college and a charitable trust hospital within a 3 km radius (for those who cannot afford private hospital fee).
I have shared this post on Dermatologists Sans Borders Facebook forum. As it turns out, I am not alone. From senior dermatologists to wet-behind-the-ears newbies like me, everyone faces situations like these. Most agreed. There were some pseudo-philanthropist doctors who did the usual blah-blah on how medical practice is much more than just collecting fees. Those European doctors should try working in the Indian system– Work as an assistant and be treated as a flunky.. Work as a free lancer in a hospital and be paid peanuts (IF you ever get paid).. The system here works by keeping the doctor starving and hungry.. That way they need to do "high output" work in order to pay their bills and actually save a little for a rainy day. 30 patients and several procedures in an average 8 hour working day, working right through lunch break on most days.. Let's see how charitable one would feel then!
Despite my reservations, I still end up doing AT LEAST one free (sorry.. not free.. "UNPAID") consultation in a day. That works out to 200 unpaid consultations in a year (conservative number).. That's 3000 minutes of my time wasted every year. I'm not just a doctor. I'm mother/wife/daughter-in-law/student/teacher/budding entrepreneur. I don't like the idea of wasted and unaccounted time. I do charity only for those who deserve it, at a time and place of my choosing. And I can not and should not be arm-twisted into tossing freebies to cheapskates.
A typical consult goes this way.. Patient walks in with a friend/entire family/parent. Mostly without prior appointment. Often over an hour late for their appointment. Then complain about having to wait 20 minutes before their VIP asses were ushered in. And of course, EVERY one is a VIP these days. They sometimes pull out old prescriptions of treatments that may or may not have worked for them. Talk about how thoroughly they have "researched" me. Then butter me up by telling me how incompetent my "rivals" are. Then the family talks about all and sundry skin issues they have- DPNs, cracked heels, under eye dark circles, salon treatments gone wrong, the latest shampoo ad on the TV.. and sometimes show me an actual pathology expecting a "complimentary" prescription for themselves. Then they talk about xyz treatment a friend had at a parlor/clinic/medispa which transformed them entirely (So how come you're here and not there, hmmm?).. "Your comments on the new treatment for sweaty pits or balding pates".. Something they read on the internet they want to discuss because they're so net savvy and all (Dude, internet and google has reached the jhuggi-jhopdis of this country. You're not special just because you have access to google!).. A simple 15 minute consultation drags on for 25 minutes.. Think of the daily mess this 1 (+1 free) consultation does to my appointment schedule!
Then my personal favorites.. NRIs who give me gyaan on how doctors in the US will do an hour long consultation and won't stop till the patient is 100% "satisfied" with the explanation.. Doctors in the US are so qualified unlike doctors in India who get their degrees based on reservation quotas and capitation and so on and so forth..  And yet somehow they won't get that ugly warts or gigantic molluscum taken out until its vacation time and they can meet an Indian doctor!! Even those who claim to have insurance! Where else will they have access to 10 dermatologists in a 5 km radius where patients are routinely seen on a walk-in basis for as cheap as 300 rs for a consultation.. Or if they find a dummy like me, just tag along with a friend for a free "just-a-second-opinion-so-I-don't-think-I-need-to-pay" consult!!
And then there are patients who assume they are my friends. Just because I'm friendly! When did we become friends?? They tell my staff "I don't have to pay for follow up since I'm a friend of the doctor". They refer their friends who also expect the "friends and family discount". For the last 2 years I have been doing all my dress shopping from the same retail outlet. After all the business I have given him, the proprietor still won't give me a measly 100 Rs discount! And here I have first time patients expecting "packages to be worked out" where even a whopping 20% discount is not good enough for them ("we don't agree with the price you are charging and the results you promise for acne scars/stretch marks") .. And first time never-seen-you-before patients who insist they are good ambassadors and have referred a lot of work to me. Imagine my shock and dismay when I realized that even the topmost dermatologists in the country find patients who threaten to go to the "competitor" as they're offering the same treatment at a 5% reduced cost.
Why would a patient want to begin the doctor-patient relationship by putting the doctor off? I hand out my phone number to every patient because one never knows when a patient may panic if they end up with retinoid dermatitis or minoxidil induced headache.. Varicella patients often need hand holding for the initial few days.. But for 1 genuine phone call, I get 4 rubbish calls asking for "appointment" (call the hospital helpline! There are people who get paid to do JUST this job!).. Patients who ask "so someone (my friend google) told me this treatment has this or that side effect".. I have saved a good number of such calls under the contact name "Bakwas", so I don't have to speak to them anymore. There was this one lady who needed oral Isotretinoin. She was asked to do the blood work. She called me claiming she has done all the tests, doesn't have the time to show/email me the reports but "I'm at the chemist right now and I'm handing over the phone to him.. You let him know the name and dosage of medication".
Yeesh! And did I forget to mention the time I was sexually harassed by an anonymous patient? I got a whatsapp msg from a "girl" telling me she got my name and number online and if I also attend to venereal disease. I said yes. So she said her boyfriend has some mysterious genital rash which only appears when the penis is fully erect. And disappears when the penis is flaccid. She wanted to know if my consultation room has an attached bathroom?! Sensing this was another "bakwas" query, I politely told her to meet a male dermatologist or urologist and she refused! Apparently her boyfriend is "too shy" to meet male dermatologists (huh?!) and has already met a lot of them, "all useless" (and what makes ME some kind of genius??). She asks if she can send pictures of his erect penis to my phone! I told her that's actually illegal and I will not entertain her anymore. She sends me the pictures anyway. Pictures that were obviously self taken. Along with choice abuses for "refusing to help a patient.. Is that not against your professional ethics? YOU &#@badabing%*# YOU &#@badaboom%*#.. I will sue you. I will leave a stinker review online. You will be finished. Let's see if you can even find out who I me.. I am IT professional. I can even hack your phone". I began to seethe and was planning to threaten a counter suit for defamation when I realized I can just block this idiot! Then I got another "Hi dear, how are you this morning? Remember the time we did so-and-s0-unmentionable-sex-act" msg from this nut case from a new number. Blocked this number too. This is what I get for doing charity!
I remember this senior doctor who wouldn't even speak to his patients. His juniors take the history. He takes a look, makes his diagnosis, prints out his prescription and/or list of investigations and hands it over to the resident doctor who then goes on to council the patient. As an idiot idealist in my 20s, I would often wonder why he was not emotionally invested in his patient. Now I get it! He was just protecting his mental health!
[sociallocker]
I always wondered about Dr Gregory House (the main lead of the TV show "House MD"). Brilliant doctor though he is, he hates his patients. Insists that all patients are liars and idiots. Refuses to even meet them, going only by the history and findings collected by his team and the reports sent by the lab..
Now I get him! 3 years ago (And Dr Bell will smile when he reads this), I had a haughty attitude towards doctors who were more focused on research or pathology, rather than clinical dermatology. Now I envy the peace and quiet they must enjoy LOL.
This is an unfortunate scenario where doctors and patients look at each other with mistrust and thinly veiled contempt. When it is patient AGAINST doctor when it should be patient AND doctor AGAINST disease. When a patient expects a free consult, they disrespect my time and disrespect me as a doctor.. Or worse, disrespect the work that I do as a no-brainer job. Even my "advice" "suggestion" and "tips", with or without a prescription, is still a professional consultation. For general tips of this nature, I have dedicated blogs and a Facebook page, the links of which are mentioned on my visiting card that is handed over to every patient. Patients must learn to build a healthy relationship with their doctors, who are only humans and not saints. Show us respect, if you want us to do our best work!
[/sociallocker]
Latest posts by Sunaina Hameed
(see all)