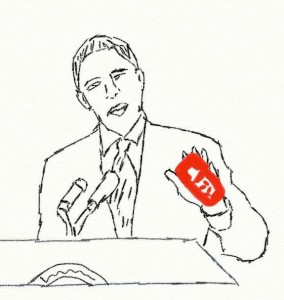 Summary: This DermaFiction story is based on the recent report of an iPhone app that is claimed to be effective in acne. The device is not FDA approved.
The news conference was hastily arranged. Professor Anderson fidgeted in his chair. He appeared to be distinctly uncomfortable with the whole proceedings. Probably he was not ready for this. At least not as yet.
The idea was simple. The idea struck when he saw his 12-year-old son Jeff playing his favorite game on his new iPhone. When the missile hit the alien the screen flashed red and blue lights as the device vibrated in his tender hands. The lights reflected on his face as it lit up with a faint smile.
Prof. Anderson was a pioneer in photodynamic therapy. (1) It is a form of treatment where a photosensitizing chemical is administered and subsequently excited by light of certain wavelengths. He has used the technology for a variety of conditions including acne. He has noticed that acne improves with blue light even without a photosensitizing chemical. (2)
If a mobile phone can emit blue light so close to the face, why can't it be used for the treatment of acne? He immediately contacted his cousin Bob who was a computer wiz. "Creating an iPhone app emitting blue light is not a big deal", Bob said. Prof. Anderson gave the specifications to Bob and he fulfilled his promise in few days. Professor decided to give it to his acne patients to try. The same day Bob showed him how to upload it to iTunes.
A phone call woke him up on the next weekend. One of his patients congratulated him for being number one, but he was still half asleep and did not understand what he was talking about. Soon he realized that the app he uploaded to iTunes has been voted as the No.1 medical app. (3)
Prof. Anderson just woke up from his reverie to catch the last part of the journalist's question. Will it work? That was the question or something similar to that.
"I don't know", he said. "But the science is sound. I have not tried it as yet. The intensity of light may be too weak. But I still believe a mobile phone can be used as a light source for photodynamic therapy. It is the next step and I am working on it."
You mean to say you have not tried it as yet. You actually released a medical device without actually testing it. The lady journalist's lips quivered as she asked this.
"This is not a medical device. It is just for entertainment." Professor said, but the journalist was not convinced.
"Don't you think you owe the public some studies to show its effectiveness?"
"Well, do you ask every mobile game programmer to provide proof that the game is entertaining?"
"But…….." Professor missed the last question. He was looking at Jeff playing with his iPhone again.
References:
1. Riddle CC, Terrell SN, Menser MB, Aires DJ, Schweiger ES. A review of photodynamic therapy (PDT) for the treatment of acne vulgaris. Journal of Drugs in Dermatology: JDD 2009;8(11):1010-1019.
2. Sadick N. A study to determine the effect of combination blue (415 nm) and near-infrared (830 nm) light-emitting diode (LED) therapy for moderate acne vulgaris. In: Journal of Cosmetic and Laser Therapy: Official Publication of the European Society for Laser Dermatology; 2009. p. 125-128.
3. http://www.medicinenet.com/script/main/art.asp?articlekey=113342
Latest posts by Bell Eapen
(see all)