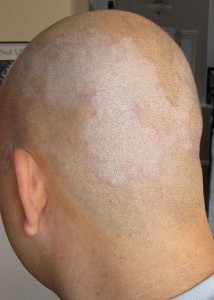 English: Picture of Seborrhoeic Dermatitis. (Photo credit: Wikipedia)
If you ask a dermatologist what dandruff is, he will tell you that Pityriasis simplex capillitii or dandruff is normal exfoliation of dead scalp cells and not to be confused with seborrhoeic dermatitis, scalp psoriasis or xerosis. Being a dermatologist even I am confused about our technical definition of dandruff. I am sure this complex definition will not mitigate the doubts in your mind about the grandma's dandruff remedy, or your theory that dandruff is the root cause of the thinning of your hair you developed the day you landed in this country. To simplify things, I have adopted a holistic stance on dandruff, different from dermatology textbooks. In this article I have included (almost) everything that causes scaling with or without itching on the scalp under the broad term 'dandruff'.
AI, machine learning & digital health consultant
at
SkinHelpDesk
Techie Dermatologist, Information Systems PhD, Supporter of Open-Source Software, Machine Learning and AI geek,loves cricket, Canadian wine and beer.
[Resume]
Latest posts by Bell Eapen (see all)