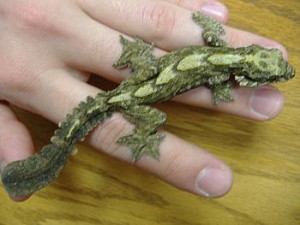 Retrieved January 14, 2011. "As with most tree dwelling or arboreal geckos, it is best not to touch or handle these geckos frequently. Their skin is sensitive and can be damaged easily." (Photo credit: Wikipedia)
'Sensitive skin'
is a supposedly 'uncommon' type of skin that 90% of my cosmetic dermatology patients complain of. Sensitive skin means different things to different people. Some even consider it a status symbol. To a dermatologist, sensitive skin means hyper-reactive skin with no evidence of any obvious skin disease, often found in atopics or asthmatics.(Sorry about the medical jargon.) This article attempts to explore the different meanings of 'Sensitive skin' and the preventive measures you can take if you indeed have sensitive skin. (I am sure you do).
AI, machine learning & digital health consultant
at
SkinHelpDesk
Techie Dermatologist, Information Systems PhD, Supporter of Open-Source Software, Machine Learning and AI geek,loves cricket, Canadian wine and beer.
[Resume]
Latest posts by Bell Eapen (see all)