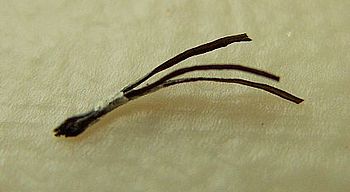 Neuroendocrinology of hair follicle is a good comprehensive review (1) that goes beyond the description of hormonal influences on the hair cycle. The review provides insights into the role of TSH, TRH and prolactin on hair and keratin. Novel concepts like the possibility of an intrafollicular equivalent of the central HPT axis is discussed.
An extracted hair folicle with three distinct hairs growing from the common source. Taken with a camera with the macro function enabled to magnify the subject. (Photo credit: Wikipedia)
[sociallocker id ="771″]
Ref:
1. Ralf Paus, Ewan A. Langan, Silvia Vidali, Yuval Ramot, Bogi Andersen, Neuroendocrinology of the hair follicle: principles and clinical perspectives, Trends in Molecular Medicine, Available online 21 July 2014, ISSN 1471-4914,
http://dx.doi.org/10.1016/j.molmed.2014.06.002
.
[/sociallocker]
Keywords: prolactin; TRH; TSH; mitochondria; CRH; skin
Latest posts by Bell Eapen
(see all)