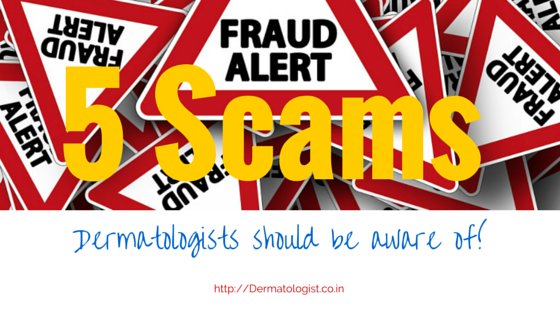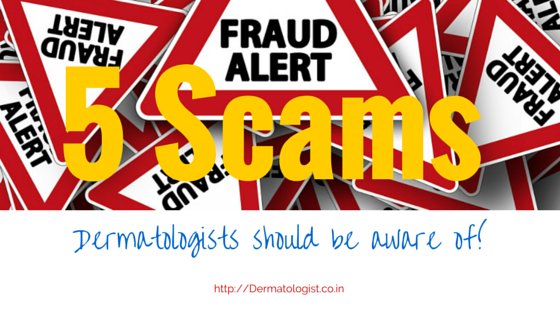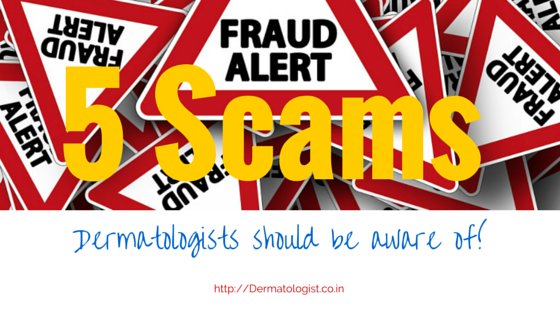 Spammers are not just the ones that should concern a dermatologist in the era of electronic Information technology. There are a whole lot of scams in the scourge and they are here to stay if not multiply in plenty. Luring and lucrative dermatology scams target the most vulnerable aspect of a dermatologist: his/her ego or the weak spots. Here are some of the common scams and their modus operandi and a guide to escape unhurt without burning your pocket and compromising your reputation? Perhaps I have saved the best for the last, so please read till the very end!
Publication Scam
The proliferation of "junk journals" is a relatively recent phenomenon, largely due to the ease of publishing online. I am sure many of my dermatologist friends have received requests to join the editorial board of such "predatory publishers".
Modus Operandi of predatory publishers are:
A HUGE editorial board, sometimes without the permission of the members.
Frequent invitation for contributions and editorial.
Quick peer-review (read no peer review).
Exorbitant publication charges. (You will only know their publication charges only after your paper is accepted and proof-read!)
Conference / Congress Scam
Conference scam is perfected by one of the 'well known' predatory publishers. These conferences will be in exotic locations and invariably you will be invited to chair a session. The topics will be hugely popular, and you will receive invitations through various social media channels such as Linkedin. They mainly send you requests from the subjects related to your publications cited in Pubmed. Though I have never fallen prey to this scam, from what I have read online, these gala conferences turn out to be a single room event in some shady hotel with a handful of people.
Award Scam
This is a relatively recent addition to this list with the advent of cosmetic dermatology. Little known agencies will give contrived titles (that nobody can dispute) to highly popular dermatologists often at the end of a nationwide 'consumer' voting. These agencies are basically trying to make their brand and their website popular at the expense of these dermatologists.
Job scam
If you are looking for a job in Middle East, it may be better to go through a Middle East based recruiter though this is a generalization, and there may be good recruiters elsewhere. Better still, if you have the opportunity, negotiate directly with the organization.
Image analysis scam
Finally, I want to give you a heads up on this highly innovative, ultra novel and technologically fascinating fraud.
[sociallocker]
I received an invitation to review a new technology to visualize beneath the surface of the skin with just webcam images and video. They have a superimposition of an image on the leg on their website that is unprofessional even by amateur standards. They claim that their technology is going to revolutionize dermatological diagnosis with "zero irradiation", and they are ready to give exclusive dealership for a 'small' amount of money!
Apparently they can use the same technology for visualizing subsurface features of Mars as well! I used to think that India's mangalyaan was a good example of relatively cheap space exploration. Well, these guys can do it with just a webcam! and I quote "anywhere in the cosmos"!
[/sociallocker]
Have you fallen pray? or any of your friends taken for a ride this way? please share them here on conditions of anonymity at least for the benefit of the readers.
Thanks to Dr Ashique KT and Dr Feroze K for suggestions and review.
Latest posts by Bell Eapen
(see all)