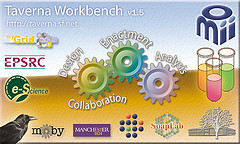 Taverna 1.5 Splash Screen (Photo credit: dullhunk)
For the last few weeks, I have been trying to understand web services. Wikipedia defines a web service as a method of communication between two electronic devices over the world wide web. Basically big guys with plenty of infrastructural resources and expertise provide services on the internet, which (poor) people like me can "consume" and create innovative applications using them. There is also a work bench to run these services called Taverna.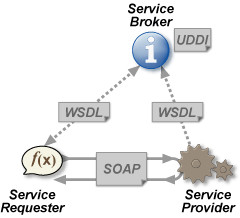 Web service triangle (Photo credit: dullhunk)
SLISE is actually an offshoot of another project that I was working on. It was not even in my mind when I started. But it took only about 24 hours to implement it after the idea struck me. In fact I could utilise most of the code, I had written for the other project. Though the description on the home page (written in the form of an FAQ has blown it 'little' out of proportion, I gives pretty decent results considering all the fundamental limitations of biomedical data mining.
I don't want to copy and paste the faq from the home page http://www.gulfdoctor.net/slise . But here is the result I got for "Morphea Profunda":
Summary: Morphea profunda at 75 thresold.
Available articles: 16 out of which 16 were read from 0
We report here the first two cases of morphea
profunda
treated with abatacept
[1]
. Subcutaneous plasma cell infiltrate has been described in many diseases such as
lupus
profundus
and lymphoplasmocytic panniculitis of
Lyme disease
[2]
.
Light microscopy
studies revealed excessive dermal
collagen
deposition with thickened hyalinized
collagen
bundles
[3]
. Our observation highlights the wide
spectrum( APRD00506 APRD00552 )
of clinical presentations of localized
scleroderma
[4]
. Muscle biopsy eventually revealed zones of
myositis
, compatible with morphea
profunda
[5]
. We describe two young children who had morphea consistent with the deep morphea type (morphea
profunda
) that appeared at the site of a previous vaccination
[6]
. The lesion did not completely match either
lupus erythematosus
profundus
or morphea
profunda
but featured clinical and pathological findings halfway between the two entities
[7]
.
No
case report of co-existence of systemic sclerosis and morphea
profunda
was found in the literature, but there are three case reports of patients with systemic sclerosis and
lupus erythematosus
profundus
[8]
. We report a case of morphea
profunda
affecting a young
man
with severe, rapidly progressive, widespread skin involvement and focus on the eventual systemic evolution of such cases
[9]
. These had been interpreted as subcutaneous lipomatosis on the basis of an ultrasound scan
[10]
. The lesions had become progressively larger, while their surface had assumed a scleroatrophic appearance
[11]
. Laboratory investigations provided normal range of erythrocyte sedimentation
rat
and
C
reactive
protein
levels and other inflammation markers
[12]
. The diagnosis of morphea
profunda
was made on the basis of clinical and histopathological findings
[13]
. We describe a
24-
year-old woman with a solitary morphea
profunda
associated with lymphangiectasia
[14]
. Solitary morphea
profunda
is a variant of localized
scleroderma
that has not been reported previously in childhood
[15]
.
Latest posts by Bell Eapen
(see all)